Successfully returning injured workers back to work, back to life.
Serving Western Washington since 1999, PINN is a leader in returning injured workers back to work, back to life.
PINN clinics work exclusively with industrial rehabilitation patients. Just as orthopedists specialize in broken bones, we tailor rehab plans to the unique physical demands of each worker's job. PINN's functional approach to treatment means patients return to their work healthy, strong, and prepared to meet the demands of their jobs.
Core services at PINN include:
Physical therapy
Hand therapy
Functional capacity evaluation
Work conditioning
Work hardening
Modeled after sports-oriented outpatient rehab clinics, PINN's facilities feature high bay warehouse spaces where many job tasks can be simulated.
PINN Values: Integrity, Empathy, Excellence, and Empowerment
PINN Vision: To be the Premier Provider of Industrial Rehabilitation in the Pacific Northwest.
Clinics are located in Seattle, Kent, Puyallup, Lakewood Center, Olympia, Vancouver, Bothel, Longview, Lake Oswego, and Spokane Valley
PINN Recognized as One of Washington's 100 Best Work Places
"Congratulations to the PINN team for making PINN the #17th best small business to work for in Washington state! You deserve this award and honor. It's a privilege to work with you all and I am humbled to be surrounded by the most professional and skilled team. Everyday you help injured workers overcome their limitations – by getting them back to work, you get them back to life. Thank you."
Learn more about this honor: Seattle Business Magazine.
The award is based on confidential employee surveys, and ranks responses based on benefits, communication, culture, hiring/retention, executive leadership, performance standards, responsibility/decsion making, rewards/recognition, training/education, and workplace environment.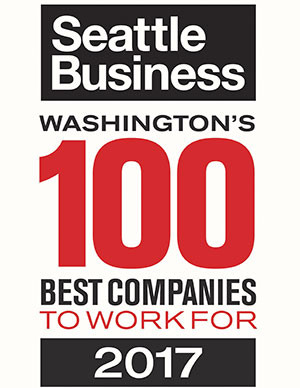 We strive to provide an inclusive work environment where our differences are celebrated for the value they bring to our communities, our patients and our teammates, and we commit to continue to focus on diversifying every level of our workforce accordingly.