Lifelong Knowledge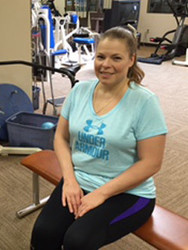 Janna Klitzke has worked for Fred Meyer in Vancouver, Washington for over 12 years. She speaks highly of her employer as she started with the company as a seasonal worker and has worked her way up to Service Deli Manager.
On August 13, 2014, she was injured at work when a forklift pinned her between a garbage bin and a cardboard compactor. She sustained multiple injuries and was able to return work after extensive rehab. Little did she think that a little more than a year later, another injury would keep her off of full time work for over 4 months.
In October of 2015, Janna was in the store's cooler picking up a carton of potato salad when she inadvertently moved a dolly that caused 200 pounds of chicken to come crashing down on her left shoulder and neck area.
After a large number of physical therapy visits and being off from work, Janna's provider, Cheryl Einerson, FNP, asked her if she would consider Work Hardening. Janna was a bit skeptical, but wanted to be pushed and had goals of returning to work full duty as a Service Deli Manager. "I had lots of therapy but seemed to stall in my progress. I wanted to be pushed a bit harder and was anxious to return to work." "I was willing to try anything," Janna responded. "Cheryl recommended PINN to me."
Janna started PINN's Work Hardening program on 2/29/16. At the time of her initial evaluation, she had 2.5/10 left shoulder and neck pain. She had limited left shoulder mobility (143 degrees of flexion and 145 degrees of abduction) and was only able to lift 15 pounds from floor to waist and waist to shoulder level. She could only carry 30 pounds and push 50 pounds of force. She had misgivings about ever returning to her previous work level.
She was a bit discouraged because her job involved lifting and carrying all sorts of heavy refrigerated food products. She also had trouble with bending and stooping tasks because being off of full duty work caused her to be deconditioned.
"The biggest benefit I received from coming to PINN was the education piece." "All these years I was lifting inappropriately and I wasn't paying attention to my body. I received lifelong knowledge that I use every day. I pay attention to my shoulder, my neck, how I'm lifting, and how I'm engaging my core muscles." "I hadn't learned those things in the past."
Janna completed her Work Hardening program on March 28, 2016 and was released back to full duty work at Fred Meyer. At the time of discharge Janna was lifting 50 pounds floor to waist and waist to shoulder level. She is now carrying 50 pounds and has a push/pull force of 60 pounds. Her pain is less than 1/10 and is able to work 45 hours a week at her job.
"I can't thank the staff enough, especially Jessica." "They created a fun environment and treated me like family. They got to know me as a person. They gave me the tools I needed to keep me healthy. Even on a bad day they made me smile. I told my doctor and my employer about PINN."
Although, Janna was discharged more than three months ago, she still comes back once a week to say hello and take advantage of working out on the cardio machines. She has since purchased a mini-trampoline, a cardio step up, a disc and an exercise ball for home use.
"I haven't had any problems at work and my employer is happy to have me back at full duty. I had a significant shoulder injury, but I don't live with pain anymore and I'm not afraid to do physical things. I wouldn't be where I am without the great work of my therapy staff. They got me to full recovery and I'll always be grateful. That's why I keep coming back, they were my family."
This is another example of how PINN helps clients find their courage over fear, confidence over doubt and hope when they are discouraged.
As the experts in Industrial Rehabilitation, we return injured workers to work.